In my job as virtual professional (VP) i need to have a good command in English both in writing and in speaking. You may be wondering what is a Virtual Professional VP is? Virtual professionals are a another term for Virtual Assistant. Virtual Assistants are those people that are working from home. We were compared to a freelancer. As far as we are concerned, VP are independent contractors that do clients task, at home, on a long term basis. While, freelancer tends to accept projects on a short term basis.
This 5 day free English course started Sept 19 then lasted about Sept 23. At the end of the course,there's a free VIP speaking session with Elizabeth. Elizabeth is an English Trainer. She is the Founder of Talk with ECM.  The main topic of the course was how to create your road map to success.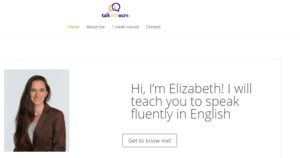 i first encounter Elizabeth when i attended one of the Speakalley speaking sessions. Speakalley is an English speaking community. The aim is to help each other to improve our English skills.  Elizabeth is one of the Volunteers who facilitates English Speaking Sessions.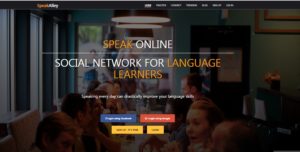 Ms. Elizabeth gave us three crucial questions before writing our Road Map to Success.
Key question #1: Writing your Goal
We have different goals in learning English. Some might need to learn English to be able to pass a certain type of English Exam. Others would want to travel and improve your communication skills or for career advancement.
So what is my Goal on attending this course?.
In my profession as a person working at home, i have local and foreign clients. In this virtual world, English is our universal language.
This is exactly how i wrote on ECM page as a way of participating in the discussion board.

"My goal: I want to be more confident speaking and writing in English for my Career. I want to express myself more clearly and precisely to my Clients so that i may carry out the job well. I want to use this language so we can both understand each other and avoid any confusion and misunderstanding in terms of project instructions. I want to get more at ease and comfortable asking questions and at the same time answering their questions."
QUESTION #2 my strength
What do you have around you that can help you? What our past learning experiences that you think gives you the most effective way of learning. What do you think the possible way you can learn English today?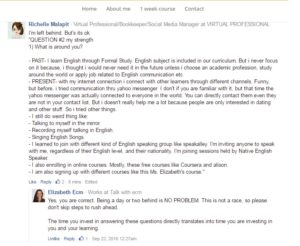 "QUESTION #2 my strength
1) What is around you?
– PAST- I learn English through Formal Study. English subject is included in our curriculum. But i never focus on it because, i thought i would never need it in the future unless i choose an academic profession, study around the world or apply job related to English communication etc.
– PRESENT- with my internet connection i can connect with other learners through different channels. Funny, but before, i tried communication thru yahoo messenger. I don't know if you are familiar with it, but that time the yahoo messenger was actually connected to everyone in the world. You can directly contact them even they are not in your contact list. But i doesn't really help me a lot because people are only interested in dating and other stuff. So i tried other things.
– I still do weird thing like:
– Talking to myself in the mirror.
– Recording myself talking in English.
– Singing English Songs.
– I learned to join with different kind of English speaking group like speakalley. I'm inviting anyone to speak with me, regardless of their English level, and their nationality. I'm joining sessions held by Native English Speaker.
– I also enrolling in online courses. Mostly, these free courses like Coursera and alison.
– I am also signing up with different courses like this Ms. Elizabeth's course."
QUESTION#3 DAY 3 – Action Steps: Roadblocks
What are the challenges and fear you have in mind. What physical factors that surrounds you  that prevents you from learning?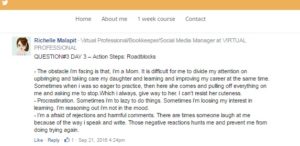 "QUESTION#3 DAY 3 – Action Steps: Roadblocks
– The obstacle i'm facing is that, i'm a Mom. It is difficult for me to divide my attention on upbringing and taking care my daughter and learning and improving my career at the same time. Sometimes when i was so eager to practice, then here she comes and pulling off everything on me and asking me to stop. Which i always, give way to her. I can't resist her cuteness.
– Procrastination. Sometimes i'm too lazy to do things. Sometimes i'm loosing my interest in learning. I'm reasoning out i'm not in the mood.
– I'm a afraid of rejections and harmful comments. There are times someone laugh at me because of the way i speak and write. Those negative reactions haunt me and prevent me from trying again."
Day 4: Road Map to success
Then finally, after answering the 3 key questions. After reflecting on the my answers. I came up with my own road map to success.

"My road map to success is to practice English and writing everyday.
Every day i will spend 10 mins of talking with other learners. 
I will write 1 a blog post in my blog a week. No Matter how crazy the topic was. 
Every time i get a negative feedback from others i will make it an opportunity to grow (no matter how painful the comment is) I will just move on. 
I will be more active participating in every course and Group discussion."
DAY 5: Live Session
After the 4 day course, i had the chance to talk with Elizabeth together with other learners. There are two live session the First one is on Friday and the Second  is on Saturday. I attend the second scheduled which is Saturday. I really had a lot of fun, but i felt very nervous.
I was very grateful for the opportunity to be part of ECM course. When i was reflecting on my road map to success i remember one thing. I am fond of writing and drafting goal. I got that idea in one of my Virtual Careers Mentors.  In fact, i have 3 pages written goal back to back. I didn't know that i need to have a detailed goal for my English Learning. It also makes me think of creating a specific goal not only for my career and learning journeys, but also with my life as whole. Today i will start to write detailed goals for my relationships. How to become a loving wife, responsible mother, caring sister and a good daughter.
At the end of this blog, I want to share with you this quote.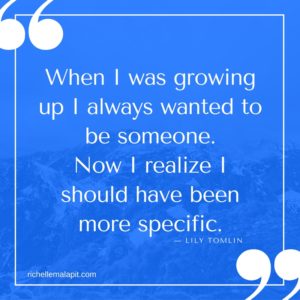 Happy reading 🙂