What is the root of this feeling of losing your creativity?
Jack-of-All-Trades. That how I started to as a Virtual Assistant. Meaning someone who has this "I can do all things" skills. Ranging from Bookkeeping, Social Media Managing, Designing and doing other ad-hoc tasks.
It was fun and fulfilling. In terms of income, the professional rate declines as the online industry grow. They tend to see Virtual Assistant as someone that is on the mediocre level that does all things. I asked this question to myself, How can earn more by doing less? Not in the sense of lessening my hour works, but also putting my energy into a particular niche.
In 2015 I tried a paid course from Jomar Hilario. The name of the course was Date of Freedom. On Dec 2016, someone hires me for the job that I don't know. 
My job is to create prototypes and wireframes for the product. The position is "Technical designer" I don't know what he exactly talking about. Plus, I'm not applying for any position in their Company. But still, I say Yes!
I thought that this is my break. An answer to my longing to have an expertise in one craft. Hence, that is "DESIGN".
I start reading books, entering and enrolling to design courses months after I'm hired. But
slowly
I stop and
totally
forget about it.
What to do to get the creative juice pump again?
It's been a year since I last created a blog for my website. I'm busy with my job because of that,  I felt that since I'm already working, I don't need to update my blog anymore. But I was wrong. I lose my creativity by abandoning my website. I thought that my work itself is sufficient to make me grow as a designer. 
Here I am, rebuilding my blog. Adding more contents. Both writing and creating graphics Images as well.
I really need 
to start but I don't know how.  Posting my first entry blog in 2018 would encourage me to write more and grow more.
I think this is my start. Welcome back to me!
And let me leave you with a quote from the video lesson I've learned in Udacity.
The most interesting solutions come out on the most interesting questions. – Tim Brown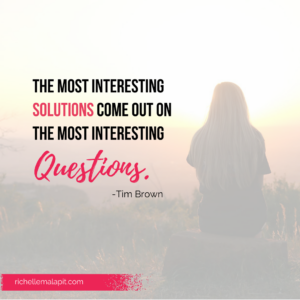 Expect more of this quotes. Similarly, you will also find a separate page for my collection of Norman things.