Where can you find a free online course on search engine optimization?
Do you want to add SEO in your skills? Well, you can find a free online course on Udemy.
I choose two online courses inside this online learning platform.
The first one is from Eric Schwartzman and the second one is from Kent Mauresmo.
So what's the difference between the two? Well, I might say they both really good courses but Eric Schwartzman is a bit old one but very very helpful if you are a beginner in SEO like me.It is composed of 42 videos with is 9 hours long.  He did explain well vocabularies and the brief preview of what SEO means. On the other hand, Kent Mauresmo is bit new Online course (2015). IT has a total of 20 videos with 9 hours long. He has an hands-on practice and a blueprint that you can actually have a copy and used as a workbook.
I was very much excited to used what I've learned from this two brilliant guys. I will use my website as a guide pig.
So let's get started. I would first show you some of the lessons I've learned from Eric course.
SEO is not something about coming first in the web page when your brand or the name of the company, SEO comes when some search for a GENERIC UNBRANDED words and your name appears in its category.
How to search for the right keywords?
1.) Basic Keyword Search
The most basic keyword search is by typing in the google search bar the topic related to your website for exam in my case "Virtual Assistant"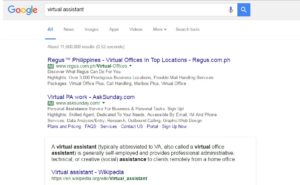 If you scroll down a bit you will see the related suggestions statement that you other people are actually searching.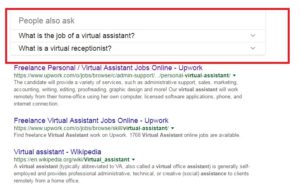 If you go deeper you will see the related searches.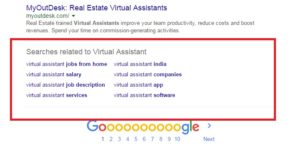 From the example, above you can actually have an idea of what terms and keywords you should include on your website and in your post.
So this is just the basic. In Eric online course he did also mention google Adwords but it, not a free tool as of today.
2.) Using keyword search tool.
This tool was from kent.
 https://serps.com/tools/keywords
 http://ubersuggest.org/
 https://adwords.google.com/KeywordPlanner

Serp.

Uber suggest.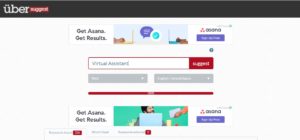 This is a simple way of how you can choose what keyword to use for your website and business, For my next blog I will show you how I learn to spy on your competitors keywords.